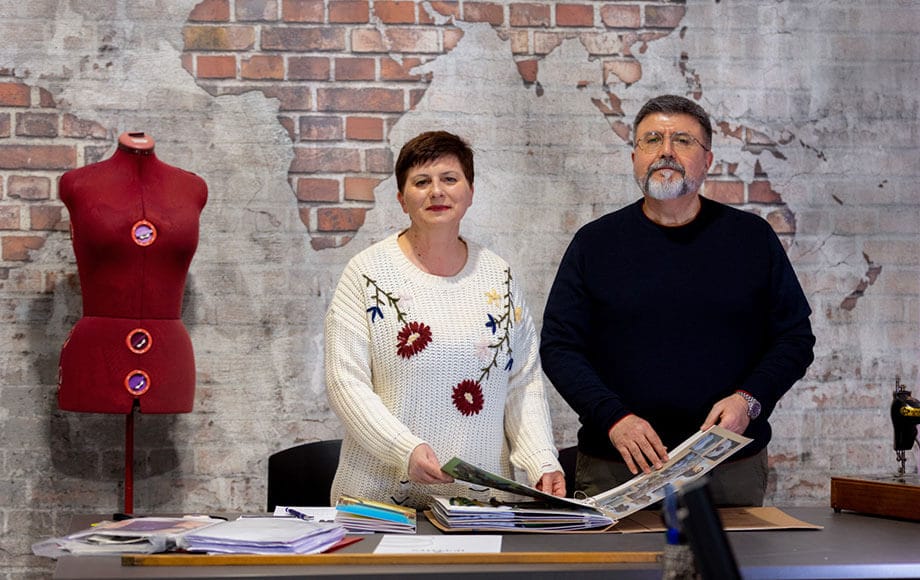 Customer < > Hoplites S.r.l. < > Manufacturers
The history of our company starts in 2009 from a basic consideration: during a clothing production, what is usually the main reason of time and money wasting, and rising of anxiety that sometimes leads to real panic by of the client?
The answer is: the lack of real interaction between the client and the manufacturer; this due to the extreme difficulty in managing at a great distance a delicate and complex process such as the creation of a garment (even more complex if the production involves various product topologies such as a total look), and the committing task to follow up many manufacturers scattered throughout the territory and each with its own characteristics and work dynamics.
The client often has its headquarters hundreds (or thousands) kilometers away from the territory where the production of the garments takes place. The sending of on-site technicians entails high costs and, in any case, implies the impossibility of having a total, constant and reliable daily control of all the manufacturers employed, making it impossible to systematically ensure timely and quality deliveries corresponding to their own dictates.
What to do then? How to overcome all this?
The solution is called HOPLITES S.r.l.
So, who we are exactly?
Hoplites S.r.l. = 100% Made in Italy
HOPLITES is a company that, although relatively young, owns a staff with a know-how of over 30 years of experience in high quality clothing production 100% made in Italy.
It is able to offer the possibility of having only one technical contact person who, daily, visits our affiliated manufacturers, in order to coordinate the productions entrusted, solving on the spot, quickly and competently any possible problem could ever arise during the production itself, eliminating the risk that such problems may appear in the final phase, when no valid solution could be adopted anymore.
We can do this because we are a streamlined structure with a very high degree of efficiency, which has a special agreement with a considerable number of apparel manufacturers, selected for reliability, quality and collaborative skills.
Ultimately, HOPLITES S.r.l. is a communication bridge between Customer and Producer, which enables productions to take place smoothly and without bad surprises.
HOPLITES S.r.l. is an answer to the modern needs and dynamics of the market as it has evolved in recent years, focused on customer satisfaction, aiming to achieve lasting relationships, with mutual benefit of all the parties involved, rather than pursuing hit-and-run relationships short-lived and without real benefits for anyone.
Quality and reliability are our prime hallmarks.