The OUTERWEAR and its added value
Outerwear, being purely an outer garment (jacket, coat, duffle coats, etc..), is perhaps the element that most contributes to immediately communicate the image we have of ourselves to the outside world. In this case it is imperative the choice of quality. Since this product is the founding element for the construction of personal style, are very important either the fabrics, the cut and the quality details that have the capability to enhance the individual self-perception. There are essential features that make the difference: the tactile sensation, the finishing, the cutting of fabric and a performance enabling the garment to adapt to the movements and maintain shape over time; all these details determine the true quality. The money used in that sense is an effective investme
nt, ensuring a garment's longer life as well as a significant added value in terms of image.
Good design and long experience
Each brand has in mind a certain type of ideal client physics typology, and this is expressed through the wearability chosen: from a sporty to a classic line. At the base of good design of the garments, remains of paramount importance the perfection of the construction of the garment itself. It takes manufacturing laboratories having extensive experience in knowing how to exploit the characteristics and virtues of a fabric, so that the garment follows at its best and valorises the proportions of the customer who will wear it. The wise proceeding in building a good outerwear is achieved by the manufacturer's capacity to meet the needs of the client's Brand, keeping alive the skills that allow to constantly reinterpret the tastes of the moment, giving the manufactured garment both a class and a perfection without time.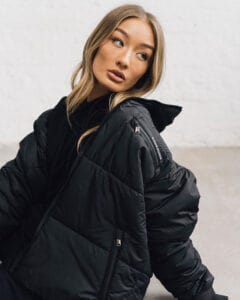 Why a made in Italy OUTERWEAR?
Made in Italy is unrivaled thanks to centuries of refinement at the highest levels in this field: Hoplites S.r.l. has selected the most qualified workers who can manufacture at best your creations, adding that mixture of sensitivity and know-how indispensable to give them a distinct personality that, as we say in slang, "makes speak the garment". Words are not enough to explain this concept, because it is expressed through some qualities difficult to describe, but which manifest themselves clearly when you encounter an artifact like this: just…see it…touch it…feel it.
Hoplites S.r.l. watches over constantly so that your expectations are fully satisfied, selecting, coordinating, checking daily, laboratories that will be used to serve you in the best way, according to the most genuine spirit of cooperation and loyalty. That's why the most prestigious brands in the world are trusting in our work. If you aspire to the best, you need to rely on those who can give you the best.
How are the COSTS calculated?
as per our client-friendly policy we always provide a free estimate, both for the realization of the samples and for the subsequent serial production; if you provide us also with information about the budget available or the production price in which you want to fall within, I will be glad to give suggestions about the most suitable material to use and the quantities to be produced to meet your market needs.
Environmental sustainability
Nowadays it is fundamental for any production follow strict environmental sustainability criteria and Hoplites S.r.l. is always extremely careful supervising that everything takes place in compliance with eco-sustainability.
How to contact Hoplites S.r.l. to ask for a collaboration?
Write us at info@hoplites.it illustrating your serial production or sampling project, and our production manager she will be glad to answer you.